If you are on Facebook here is more chat discussion about the poker run.
Houston to Lake Charles Poker Run 1.0
Join us for another awesome Polaris Slingshot event from Slingshot Houston and Sling Life, as we do a Slingshot Poker Run / Ride from Houston to L'auberge Casino and Resort in Lake Charles, starting at 10am on October 14th 2017. See below for more details!
Purchase your tickets here:
https://www.slinglife.net/events
Early Bird Tickets are $75.00 each. You can purchase an additional
Poker Run Score sheet / Game Card for a discounted rate of only $50.
This is optional, but can be used to double your chances to win, or can be used by a passenger to participate in the prize giveaways.
We had a Slingshot Houston family member who lost everything in Hurricane Harvey. We are pleased to announce that 40% of all funds raised for this event will be donated directly to the Fontenot family, as they work to put their lives back together.
For clarity and transparency, roughly 45% of the funds raised will be used for prizes and gifts for the participants, and roughly 15% will be used for miscellaneous expenses like printing, supplies, photographer / videographer, and PayPal payment processing fees.
To encourage early enrollment and efficient event planning, prices will increase 10 days before the event, so please reserve your tickets early. You will also have the opportunity to donate or purchase a full ticket on the day of the event if desired. We accept all major credit cards. Please purchase your tickets now and join us in supporting our Slingshot family, while enjoying a fun filled day and night with prizes and fun at the casino.
We understand that some individuals may not want to participate in the event / poker run / charity portion, and would like to only ride with the group from Houston to Lake Charles. We welcome all of our extended Slingshot family to partake in the ride, whether you are able to donate, purchase a ticket or not, although
ticket purchases are encouraged.
Room Block Announcement!
The contract has just been signed for the Room Discount Block at only
$219 a room at L'auberge Casino Resort in Lake Charles Oct 14th 2017.
(Normal Rate is $339.00 a night, so this is a huge savings!)
Please call now to Reserve your room! Call (866) 580-7444 for reservations.
Start calling NOW to make reservations any time with the group code # SSLIN07 or use SlingshotHouston Group name.
We started the initial contract with 20 rooms. Once we fill the first 20 rooms we will call and add more rooms to the block. Half of the available rooms have 1 King Bed and the other half have 2 Queen beds.
Book ASAP to make sure you get the room you want.
All they need is your name & credit card to reserve your room. Your card will not be charged until we check in.
Event Details / Rough Itinerary (Stay Tuned for More Details!)
October 14th 2017
• 10:00 am - Initial meet/1st stop
CLUTCH BAR 5334 Washington Avenue Houston, Texas 77007
Registration, score cards / map distribution, shuffle and deal first
card. 11:30 am to 12:00 (Estimated) – Roll out from first stop
Stops 2, 3 & 4 will be relayed to Ticket Holders at initial meet up spot for route/safety meeting this will allow to keep this event exclusive. The 4th stop will be at a restaurant to eat if desired.
Stop 5 - L'auberge Resort and Casino - Lake Charles, LA – Parking garage rooftop welcome, final card drawing and cash prize announcements
**You must be present at the L'Auberge parking lot roughly between the hours of 6:00 – 7:00 pm in order to win the cash prizes, don't miss out!!
October 15th 2017
11:00 am - Hotel Check out
11:45 am – Parking garage meet (possible additional prizes!!)
12:30 pm – Roll out and Ride back to Houston
Weather – If severe weather is an issue directly impacting the Houston - Lake Charles area, in our agreement with the hotel we are allowed to postpone the event with 5 Days advance notice. In this case we will postpone to December 9th 2017. If the event is not postponed, and there is still a chance of scattered showers we will still make this trip and have the event. OUR GROUP IS FINANCIALLY LIABLE FOR THE ROOMS, SO PLEASE DO NOT CANCEL YOUR ROOMS LESS THAN 5 DAYS BEFORE THE EVENT. Let's go the casino and have some fun with our wonderful Slingshot family!
No Skill Involved, No Poker Experience needed, No Bluffing, everyone has a fair and equal chance to win. This is a one-day/overnight Slingshot Poker Run Rally featuring five stops with drivers collecting 1 Poker Card at each stop. Top hands will be awarded with a cash prize! That's right... CASH MONEY! (Specific places paid and prize amounts are based upon participation numbers.)
Poker Run Game Rules
1. Every player will be given an individual score sheet at the start of the event. The Dealer will also maintain a master score sheet. Score sheets will have the names of all individuals who have paid for a ticket or extra hand. Each individual score sheet will have 5 slots for each poker card drawn, with 3 bonus slots for bonus cards if purchased.
2. Additional "add-on game cards" can be purchased for $50 each. This can increase your chances to win, or be used for a passenger or partner who would also like to participate in the game.
3. At each meeting location, each player will approach the gaming station, and draw a card. The card will be written on the individual score sheet, and the master score sheet. The card will then be placed back into the deck. If a player draws a card that he/she has already drawn at a previous stop, the player will draw again.
4. At any station, an additional bonus card can be purchased for $20. (Up to 3 total)
5. If a player is not present at any given stop, and the player has already paid for an event ticket and is listed on the master score sheet, an event assistant will draw a card for you, which will be written on the master score sheet. (All players must be present at the final stop – casino parking garage – in order to be eligible to win the cash prizes.)
6. After all five cards have been drawn (and any additional bonus cards purchased), we will use standard poker hand rankings to determine the best 5 card poker hands. In the rare case of a
tie, the following suit ranking will be applied: Spade = highest, then heart, then club, then diamond = lowest)
7. Prize amounts and number of places paid will be announced at the final location.
8. All players have an equal chance of winning, no skill is required, and Sling Life / Slingshot Houston will maintain the rules, integrity and fairness of the game for all participants
We appreciate our entire Slingshot community for supporting our events. Slingshot Houston in association with Sling Life put on many free, successful and highly organized events throughout the year, with Mark Maillet and Storm Mansell (and others) donating countless hours of their time to make these events special. This specific event is a "Poker Run" with cash prizes and involves some extra costs. We hope to make this an annual event, to get bigger and better each and every year. Tickets are non-refundable, as the event will only be postponed for a later date and not cancelled. The more participants we get, the more exciting we can make these events. Please contact Storm Mansell or Mark Maillet with any specific questions (Or Post comment below with question), more details to be posted soon, along with the link for ticket sales. Again, thank you for your support!
___________________________________________________
Slingshot Houston / Sling Life Poker Run 1.0 Event Itinerary Saturday October 14, 2017
10:00 – 11:30 AM – "Mods and Mimosas" Meetup sponsored by Clutch Bar and Sling Life – Clutch Bar 5334 Washington Ave, Houston, TX 77007 – distribute score sheets, gifts, announcements, shuffle up and deal first card (arrive early if you want to eat brunch)
12:20 – 1:00 PM – FIRST STOP – Buc-ee's 4080 East Fwy, Baytown, TX 77521– fuel, snacks, deal second card, rollout.
2:15 – 3:00 PM – SECOND STOP – Cowboy Powersports 1280 Interstate 10 Access Rd, Beaumont, TX 77707 – stretch and refresh, deal third card, rollout
4:00 – 5:30 PM – THIRD STOP – Quaker Steak & Lube, 535 N Cities Service Hwy, Sulphur, LA 70663 – Motor – Themed Restaurant – meal / snacks if desired, deal fourth card, rollout
5:45 PM – ARRIVAL AT L'AUBERGE CASINO RESORT – 777 Ave L'Auberge, Lake Charles, LA
70601 - Garage rooftop welcome, dedicated bar, deal final card, determine final prizes and winners
7:15 PM – L'auberge Garage Rooftop – Donation and prize announcements (must be present to win!)
7:30 PM – Hotel Check-In
9:00 PM – Jack Daniels Bar – L'auberge Casino – After Dark / Jack Daniels Bar…. Enjoy the evening….
10:00 PM - Optional After Dark Lake Charles Ride (Lake Beach / Civic Center)
11:00 AM Sunday 10/15 – Hotel Check Out
12:15 PM Sunday – Garage rooftop, gather,ride back to Houston together
*all times are approximate
#SlingshotHouston
#SlingLife
#TexanSlingin
#SlingHard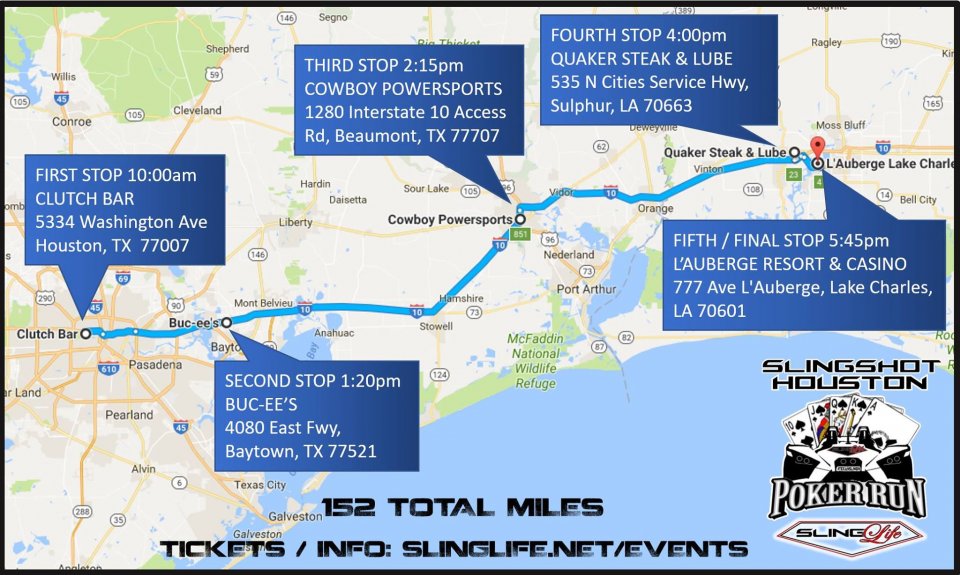 Last edited: